MODI GOES WITH THE MINISTERS ON FOOT FROMTHE BJP HEADQUARTERS
Prime Minister Narendra Modi walks on his last visit to his leader Atal Bihari Vajyapayee. When the BJP Chief S, when the last visit went there, Modi quietly followed. The Prime Minister reached the memory site about six kilometers. Together with the BJP president, the Union Minister and all the BJP leaders were present. During this period, SPG and Police faced heavy problems in security arrangements.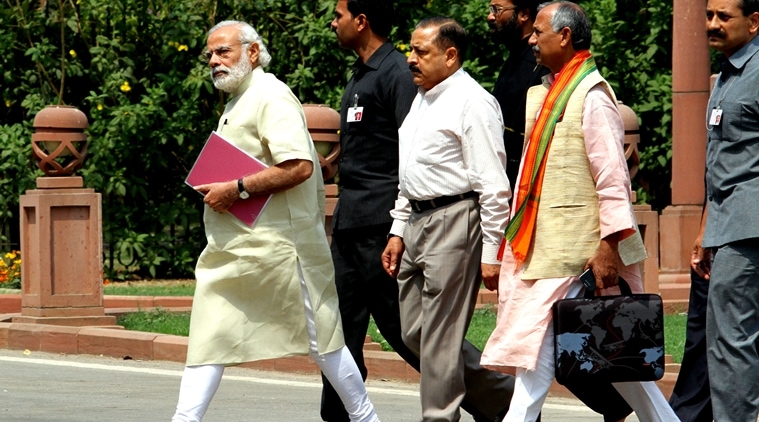 At about 2 am, the last journey of Atal ji started from BJP chiefly. Behind the Prime Minister vehicle, the BJP came out from the headquarter. Besides the security cover of the Minister of State, his convoy was also present. But instead of going into his vehicle, instead of stopping, he walked behind Atalji's vehicle. They saw him along with BJP's national president Amit Shah, Madhya Pradesh Chief Minister Shivraj Singh Rawat, Railway Minister Piyush Goyal, along with some other leaders, along with the Prime Minister.
मोदी मंत्रियों के साथ भाजपा मुख्यालय से पैदल ही चल पड़े
अपने नेता अटल बिहारी वाजयपेयी की अंतिम यात्रा में प्रधानमंत्री नरेंद्र मोदी पैदल चल पड़े | भाजपा मुखयालय एस जब अंतिम यात्रा का वहाँ चला तो मोदी चुपचाप पीछे चलने लगे | प्रधानमंत्री करीब छह किलोमीटर पैदल चलकर स्मृति स्थल पर पहुंचे | उनके साथ भाजपा अध्यक्ष के साथ साथ केंद्रीय मंत्री और तमाम भाजपा नेता मौजूद थे | इस दौरान एसपीजी और पुलिस को सुरक्षा इंतजाम में भारी दिक्कत का सामना करना पड़ा |
सुक्रवार करीब 2 बजे भाजपा मुख्याल्य से अटल जी की अंतिम यात्रा की सुरुआत हुई | प्रधामंत्री वाहन के पीछे ही भाजपा मुख्यालय से निकले | प्रदधानमंत्री की सुरक्षा घेरा के साथ-साथ उनका काफिला भी वंहा मौजूद था | मगर, वह अपने वाहन में जाने के बजाए बिना रुके ही पैदल अटलजी के वाहन के पीछे चल दिये | उन्हे देख उनके साथ भाजपा के राष्ट्रिय अध्यक्ष अमित शाह मध्यपरदेश के मुख्य मंत्री शिवराज सिंह रावत, रेलवे मंत्री पीयूष गोयल समेत कुछ अन्य नेता प्रधानमंत्री के साथ हो लिए |