NASA'S ROCKET LAUNCHED TO OPEN THE SECRETS OF SUN
To open the hidden secret of the sun's layers, NASA's ship left for a historic 26-hour journey on Sunday. 'Parker Solar Probe', ready for $ 1.5 billion, was released Sunday at 3.31 am (local time). The technical launch was not held on Saturday.
The vehicle will rotate 24 to 24 hours by the speed of 6.92 lakh kilometers per hour. This speed is the highest in any man made thing. During this journey to reach the sun the rocket will pass through the gravitational route of many planets. In this, the gravitational route of Mercury will also help it. It will pass 40 million miles from the surface of the sun. This will be the first vehicle to reach so close to the surface of the sun. Parker Solar will chant around the sun for seven years. This car-shaped vehicle will be close to Corona's outer layer of sun. Corona's temperature is only 10 million degrees Celsius.
NASA has made an 8-ft flying saucer to save Parker Solar from the sun's high temperature. This is the 4.5-inch thick carbon foam layer. The part of the vessel that is on the sun, the layer of the ceramic paint is rotten, so that it can send back the sun's heat. The vehicle is named after physicist Eugene Newman Parker. These were the concepts of transmitting energy through stars.
सूरज के रहस्य खोलने को नासा का यान रवाना
सूर्य की परतों में छिपे राज को खोलने के लिए नासा का यान 24 घंटे की देरी से रविवार को ऐतिहासिक सफर पर रवाना हो गया। 1.5 अरब डॉलर की लागत से तैयार 'पार्कर सोलर प्रोब ' को रविवार को सुबह 3.31 बजे (स्थानिय समयनुसार) रवाना किया गया। शनिवार को तकनीकी लॉंच नहीं हो सका था।
यान 6.92 लाख किलोमीटर प्रति घंटे की रफ्तार से सूरज के 24 चक्कर लगाएगा । यह गति किसी भी मानव निर्मित वस्तु में सबसे ज्यादा है। सूरज तक पहुँचने की इस यात्रा के दौरान यान कई ग्रहों के गुरुत्वाकर्षण मार्ग से होकर गुजरेगा । इसमें बुध ग्रह का गुरुत्वाकर्षण मार्ग भी इसकी मदद करेगा । यह सूरज की सतह से 40 लाख मील की दूरी से गुजरेगा । सूरज की सतह के इतने करीब पहुँचने वाला ये पहला यान होगा। पार्कर सोलर सात साल तक सूरज के इर्द – गिर्द चक्कर लगाकर अध्यान्न करेगा। कार के आकार का यह यान सूरज की बाहरी परत कोरोना के नजदीक रहेगा। कोरोना का ही तापमान 10 लाख डिग्री सेल्सियस होता है।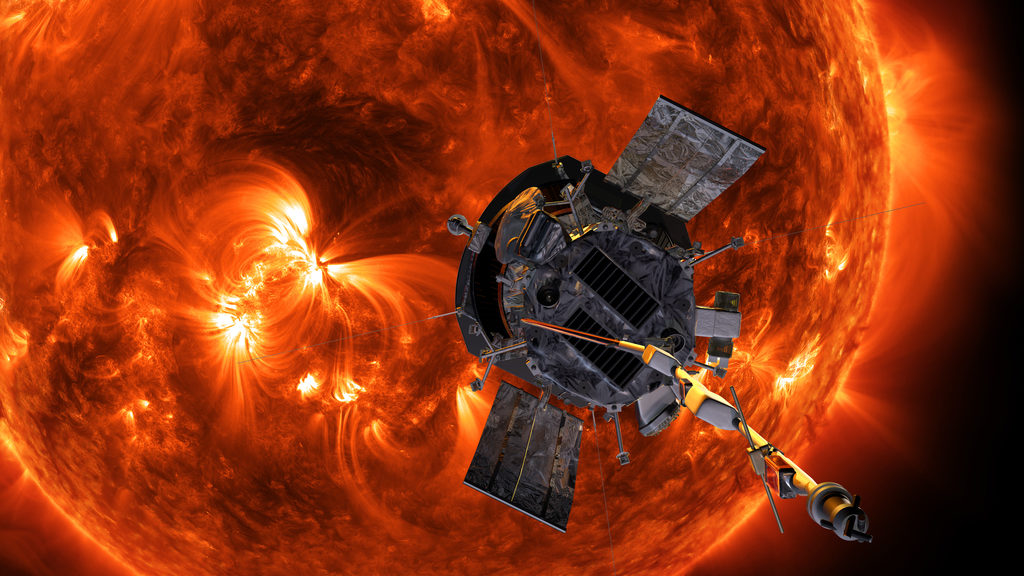 नासा ने पार्कर सोलर को सूरज के अत्यधिक तापमान से बचाने को 8 फुट की उड़न तश्तरी बनाई है। यह 4.5 इंच मोटा कार्बन फ़ोम की परत है। यान का जो हिस्सा सूरज की ओर होगा उस पर सेरामीक  पेंट की परत चड़ाई गई है, ताकि यह सूरज की गर्मी वापस भेज सके । यान भौतिकशास्त्री यूजीन न्यूमैन पार्कर के नाम पर है। इनहोने तारों द्वारा ऊर्जा संचारित करने की अवधाराएं पेश की थी।