PRESENTED IN MALAYSIA, FORMER MINISTER OF EXTERNAL AFFAIRS NAJIB COURT
Former Malaysia Minister Najib Razak was presented in court on Wednesday in connection with the recovery of millions of dollars.
Anti-bureaucratic investigators arrested the 64-year-old former prime minister on Tuesday from his residence. Against this, the proceedings against them were done in connection with the investigation of the state development fund, former unit of MDB, SRC International. They are accused of embezzling $ 70 million by the fund established by them in the year 2009.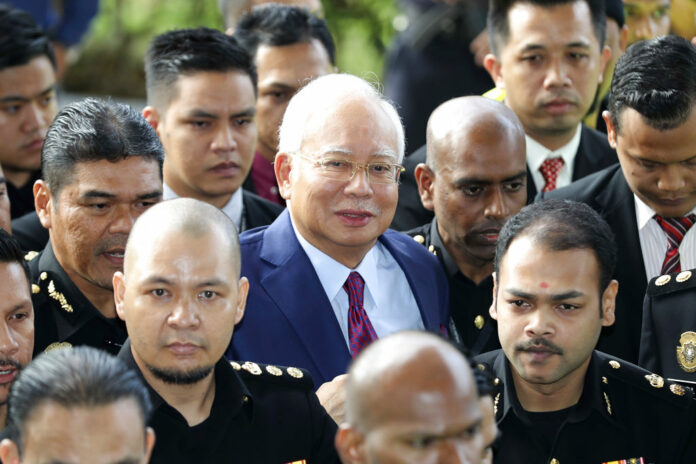 After this, he introduced the four crores of 20 lakh ringgit (one crore 40 million US dollars) in a case before the judge in the case of the cow, where he was charged with three charges of insurrection.
If these allegations prove, then Najib was forced to face 20-20 years of jail for every charge, after the general elections held in May in the country, in which his coalition of power from time to time was every cow.
मलेशिया के पूर्व परधानमंत्री नजीब कोर्ट में पेश
मलेशिया के पूर्व परधानमंत्री नजीब रजाक को लाखों डॉलर रिसवत लेने के मामले में बुधवार को अदालत में पेश किया गया |
भरष्टाचाररोधी जांचकर्ताओं ने 64 वर्षीय पूर्व परधानमंत्री को उनके आवास से मंगलवार को गिरफ्तार किया था | उनके खिलाफ यह कार्यवाही राज्य विकास निधि 1एमडीबी की पूर्व इकाई , एसआरसी इंटरनेशनल से जुड़ी जांच के सिलसले में की गई | उन पर वर्ष 2009 में उनके द्वारा में उनके द्वारा स्थापित निधि से 70 करोड़ डॉलर गबन करने का आरोप है |
इसके बाद उन्हे चार कारोड़ 20 लाख रिंगगिट  ( एक करोड़ 40 लाख अमेरिकी डॉलर ) रिसवत लाने के एक मामले में न्यायाधीश के समक्ष पेश किया गाय , जहां उन पर विसवासघात के तीन आरोप लगाए गए | अगर ये आरोप साबित हो जाते है तब नजीब को हरेक आरोप के लिए 20-20 साल जेल की नजीब के लिए मुश्किल देश में मई में हुए आम चुनाव के बाद सुरू हुई, जिसमें अर्से से सत्ता में काबिज उनका गठबंधन हर गाय था |